IM WIRTSCHAFTLICHEN ZENTRUM DES SUEDLICHEN INTERIORS
Hier lebt man guenstig zum erschwinglichen Preis.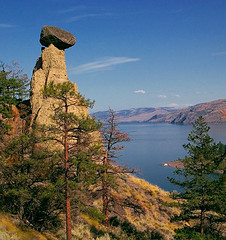 Kamloops is a city located in the southern interior of British Columbia, Canada. It's a small city with a population of around 100,000 people and is surrounded by beautiful natural scenery. Kamloops is located at the confluence of two rivers, the North and South Thompson, and is known for its hot and dry climate in the summer.
One of the most popular attractions in Kamloops is the Kamloops Wildlife Park, which is home to over 60 different species of animals. Visitors can see bears, cougars, wolves, and many other animals up close and learn about their habitats and behaviors. The park also has a large bird sanctuary and is a great place for bird watching.
Kamloops is also a popular destination for outdoor enthusiasts. The city is surrounded by mountains, lakes, and rivers, making it an ideal location for hiking, fishing, and water sports. Some of the most popular outdoor activities in Kamloops include kayaking, paddleboarding, mountain biking, and skiing.
If you're interested in history, Kamloops has a rich heritage that is worth exploring. The Secwépemc Museum and Heritage Park is a great place to learn about the local First Nations culture and history. The museum has exhibits on traditional hunting and fishing practices, as well as displays of traditional art and crafts.
Overall, Kamloops is a great destination for anyone looking to experience the beauty of the British Columbia interior. With its natural scenery, outdoor activities, and cultural attractions, there is something for everyone in Kamloops.